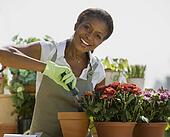 Flowers always make people better, happier, and more helpful; they are sunshine,
food and medicine for the soul.
~Luther Burbank
In a May 29, 2011 article,
Gardening can be good for your health says local health expert
, Carol Zimmerman wrote about the many health benefits of gardening, including:
lower blood pressure
increased immune function
reduced stress.
you can also get a full workout
muscle endurance
muscle strengthening
After reading Zimmerman's article, I was glad that I decided to start a patio garden in my back yard. In fact, I do not have time in the evenings to dig in the yard, so I decided to start my garden in flower pots, because it takes very little time to maintain flowers in pots.
After a busy day or on the weekends I love to relax in my backyard and enjoy the view of the flowers. Furthermore, after spending time in the backyard surrounded with flowers, I feel so refreshed and rejuvenated.
I hope that you have been inspired to start your own garden or get involved in a community garden for your health & wellness.
Have a Healthy Day!
Shiketa Morgan
Reccommended Reading